PUBG MOBILE 2.3 Update Patch Notes
Download PUBG MOBILE 2.3 now to join the Global Chicken Cup with the football superstar Lionel Messi. PUBG MOBILE Version 2.3 features new football-themed mechanics, map updates, and many other new contents. Follow this article of Gate Game.
PUBG MOBILE Version 2.3 update was released today to celebrate the season of football with the 'PUBG MOBILE Global Chicken Cup', featuring a new football-themed game mode Football Mania, multi-map makeover, in-game activities, cosmetics, and more. Download PUBG MOBILE 2.3 now to play the new content ahead of its official release. The official Youtube channel has already released several previews of the upcoming new content as well as the collaboration with football superstar Lionel Messi. Watch the preview below.
Enjoy the exciting football-themed festival – Football Mania
A grand Football Carnival will open in Erangel with unique styles of architecture such as the giant silver football player statues and the towering football trophy, along with themed activities to explore. The update will also add a number of themed supplies and special elements. For example, the Respawn Card allows players to respawn immediately to the battleground after they are defeated, without using the Recall Tower. You can visit the Prize Room with your friends to claim unexpected prizes. There will be a golden track encircling the carnival to let you move at lightning speed.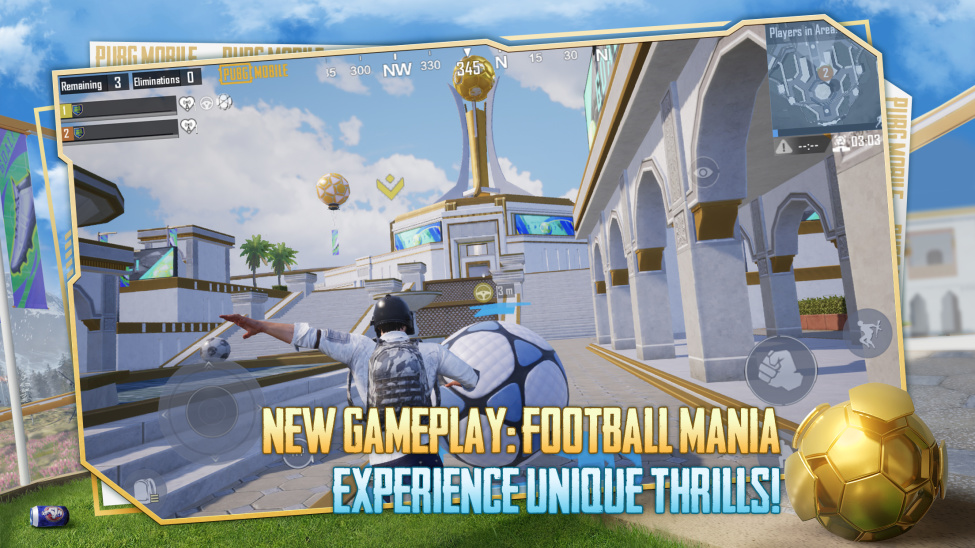 The brand-new Messi's Golden Shoes will help players to run fast and perform football-style change of direction moves to avoid enemies' attacks and escape from the blue zone quickly. But be aware that you cannot hold a firearm when using the Golden Shoes.
Besides the Golden Shoes, PUBG MOBILE also adds Wonder Football in the update, which has the special ability to draw players towards its landing point after you kick out the ball. And you can kick the Wonder Football on the Football Arena to achieve goals for supplies. Once you've scored all possible goals, a mysterious Easter Egg will show up!
Moreover, the Zorb Football Vehicle can transform the player into a giant moving football to travel on land or in the air quickly. What's more, you can work with your teammates by having them kick you to another location for a surprise attack.
Team up with your friends in the Unite for One Goal event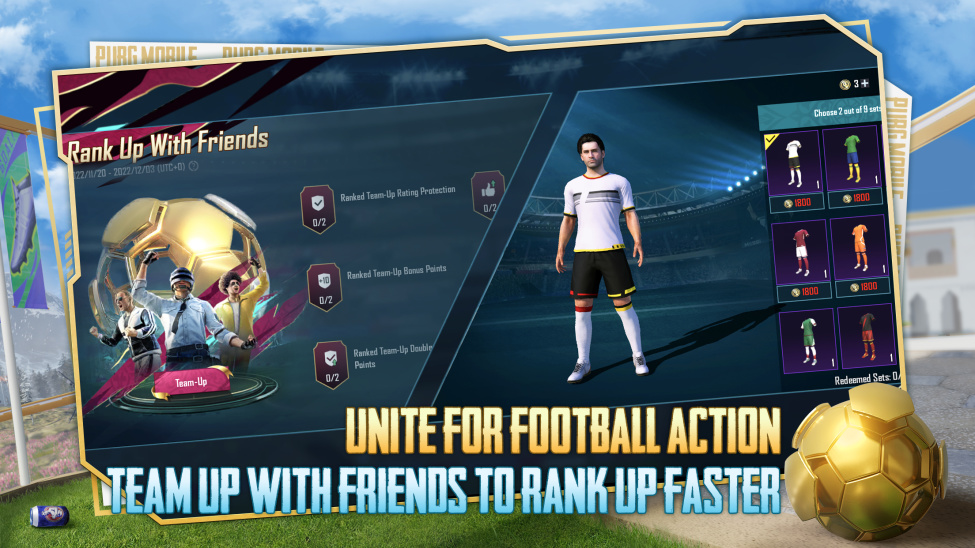 PUBG MOBILE will launch themed social events Unite for One Goal from Nov 20, 2022 to Dec 18, 2022. Players can unite with their friends to earn rewards in the Cheer Cup and Messi Club. The schedules of the events are listed below:
Nov 20 – Dec 3: Rank Up With Friends
Nov20 – Dec 18: Well Wishes
Nov 20 – Dec 3: Winning Choice
Nov 20 – Dec 18: Top Goal
Nov 26 – Dec 18: Unite Your Team
If you are ranked in the Top 30 of Ranked matches, you will receive additional bonuses with your teammates including rating points and double Synergy. Furthermore, you can vote for your favorite football team through in-game football match prediction events or making predictions to get additional rewards.
Classic Modes Updates in Maps, Firearms, and Vehicles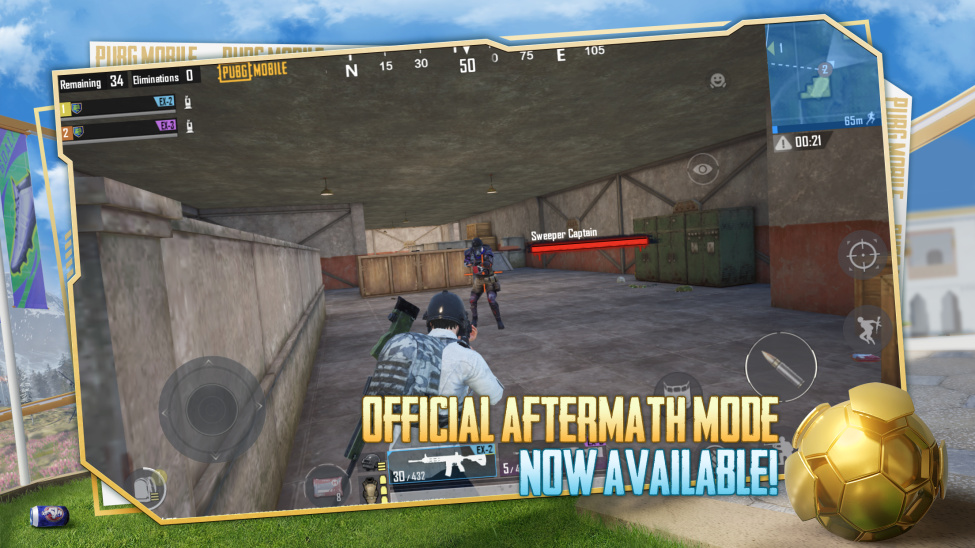 Erangel has added three cable car routes to Stalber to help players move around the map quickly. A Supply Warehouse will also provide players with loads of advanced supplies. As for the new items, the Vehicle Radar helps players to locate nearby vacant vehicles easily.
Two new weather conditions are added to Livik – dawn and dusk, to present players with a better visual experience. Several improvements are made to increase the damage of firearms including Kar98k, M23, and AWM, and streamline the players' experience while riding the Mountain Bikes. The official Aftermath Mode will also be released in December, giving all stages a complete overhaul.
C3S9 Coming Right After 2.3 Update
The new season C3S9 rewards include the C3S9 Set, C3S9 Glasses, C3S9 Parachute, along with other Legendary items. What's more, players can set a Tier Goal for the C3S9 season in the new Tier Goal System to claim additional rewards after reaching the goal.
PUBG MOBILE x Lionel Messi collaboration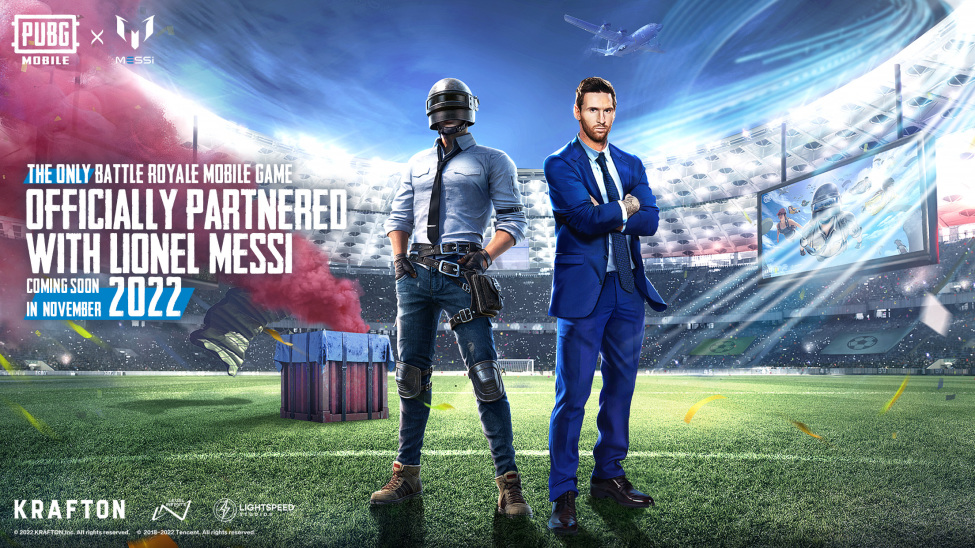 Last but not least, PUBG MOBILE is the only Battle Royale on mobile that officially collaborates with Lionel Messi. In the Version 2.3 update, Messi will be the PUBG MOBILE Global Chicken Cup Captain and be alongside the players in a variety of activities across multiple maps and game modes.